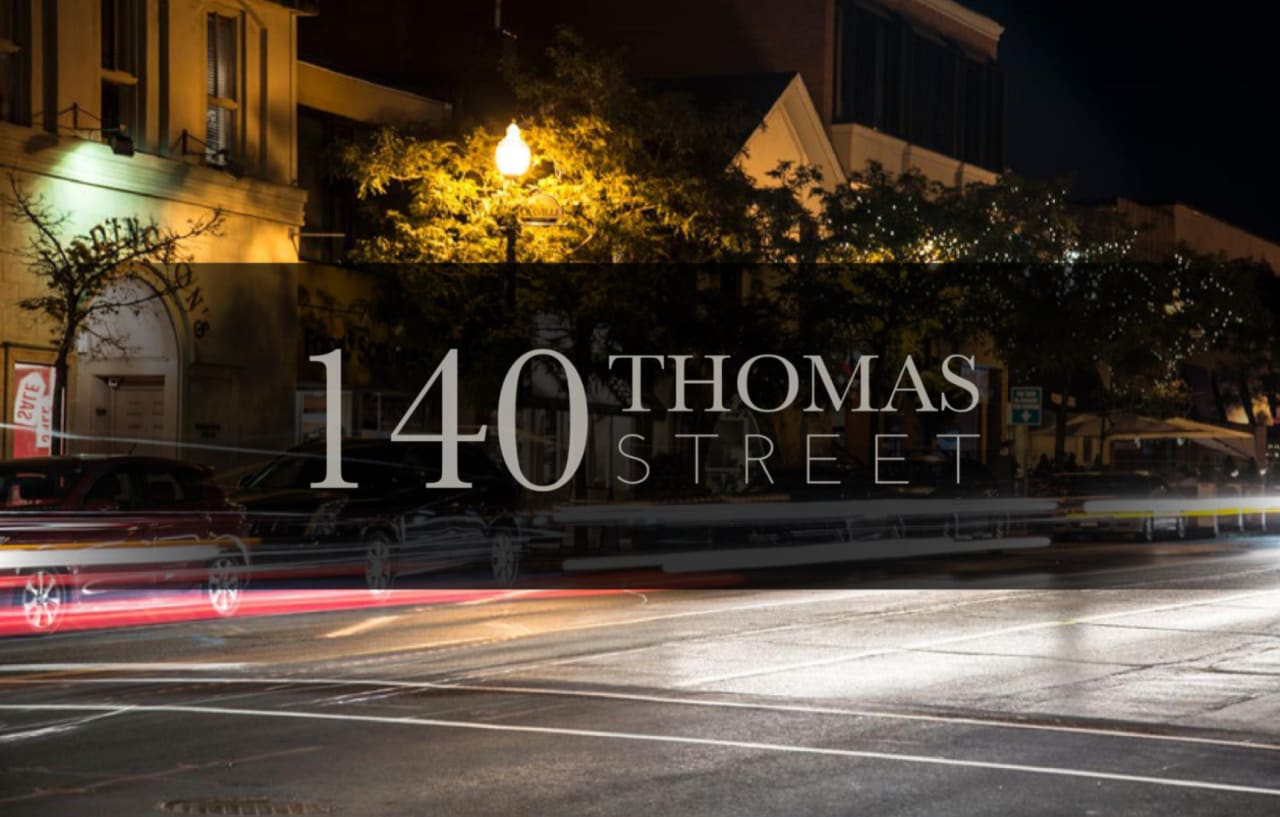 7 EXCLUSIVE RESIDENCES IN DOWNTOWN OAKVILLE
1,657 - 2,487 SQUARE FEET
$1,850,000 - $2,984,000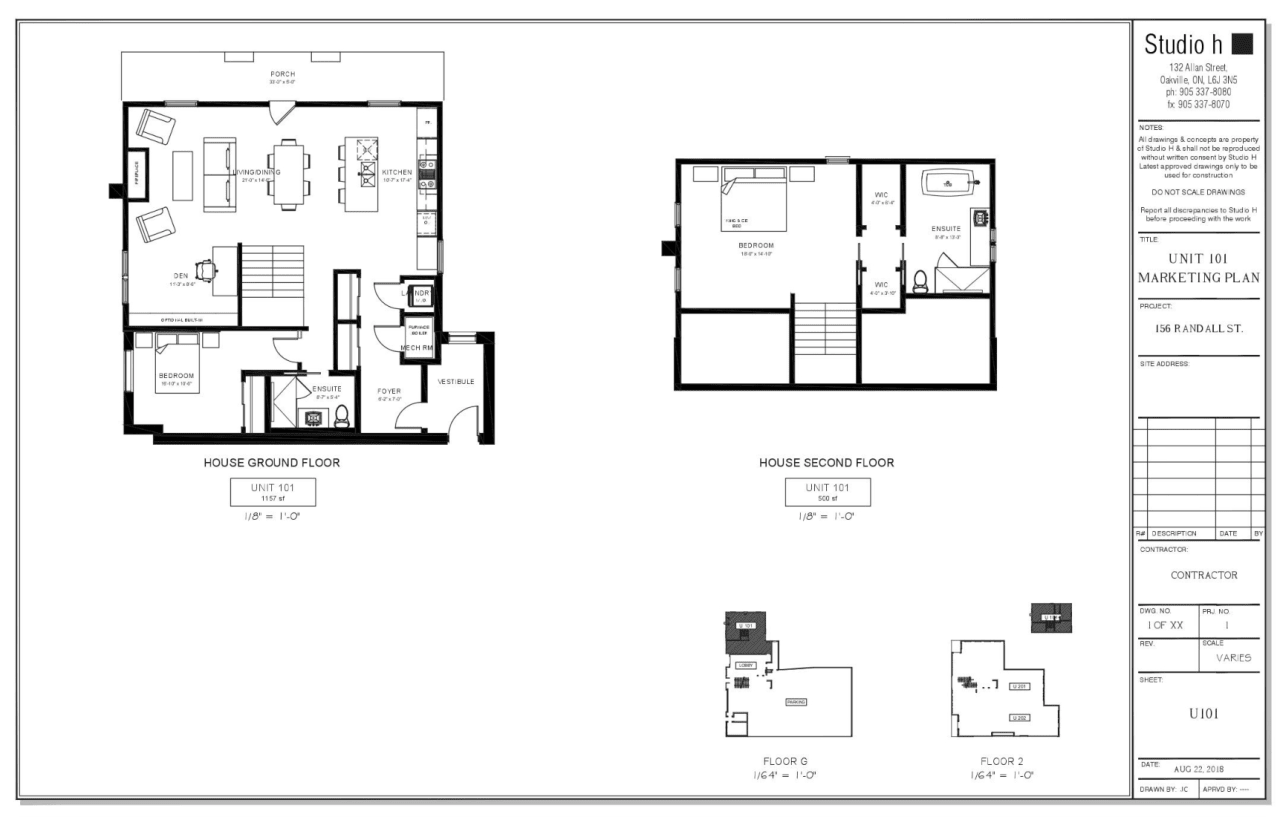 FLOOR PLANS | UNIT 101 | 1,157 + 500 sq. ft. | HOUSE 1st & 2nd FLOOR FLOOR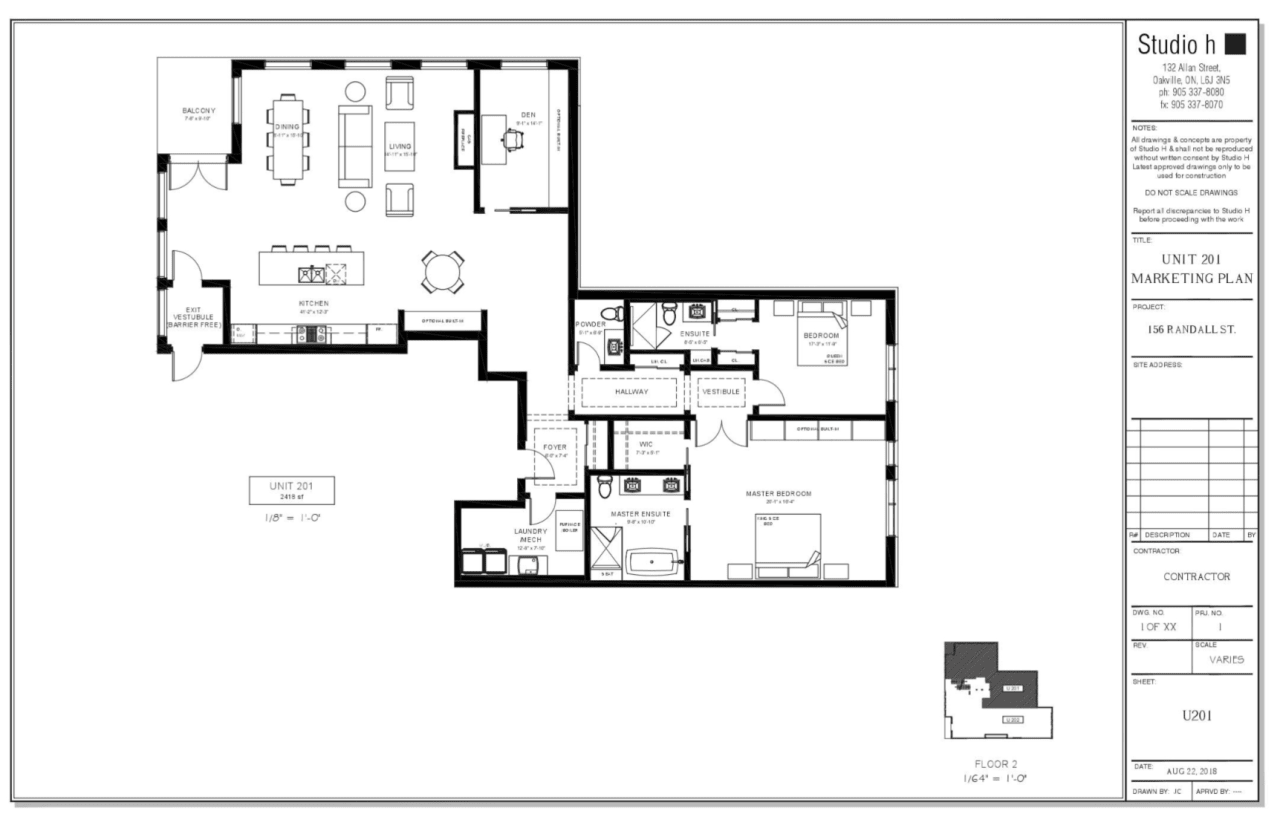 PLANS | UNIT 201 | 2,418 sq. ft. | CONDO BUILDING 2nd FLOOR 5
---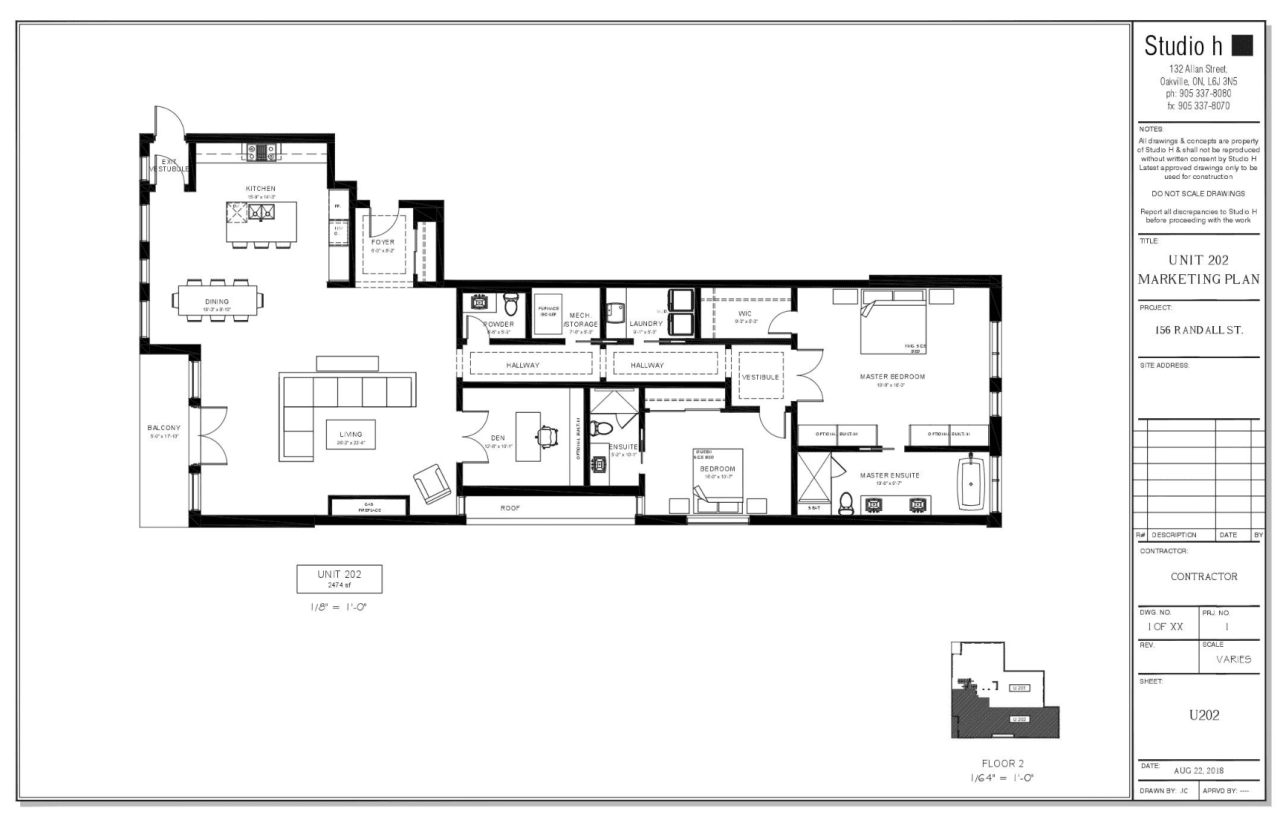 FLOOR PLANS | UNIT 202 | 2,474 sq. ft. | CONDO BUILDING 2nd FLOOR FLOOR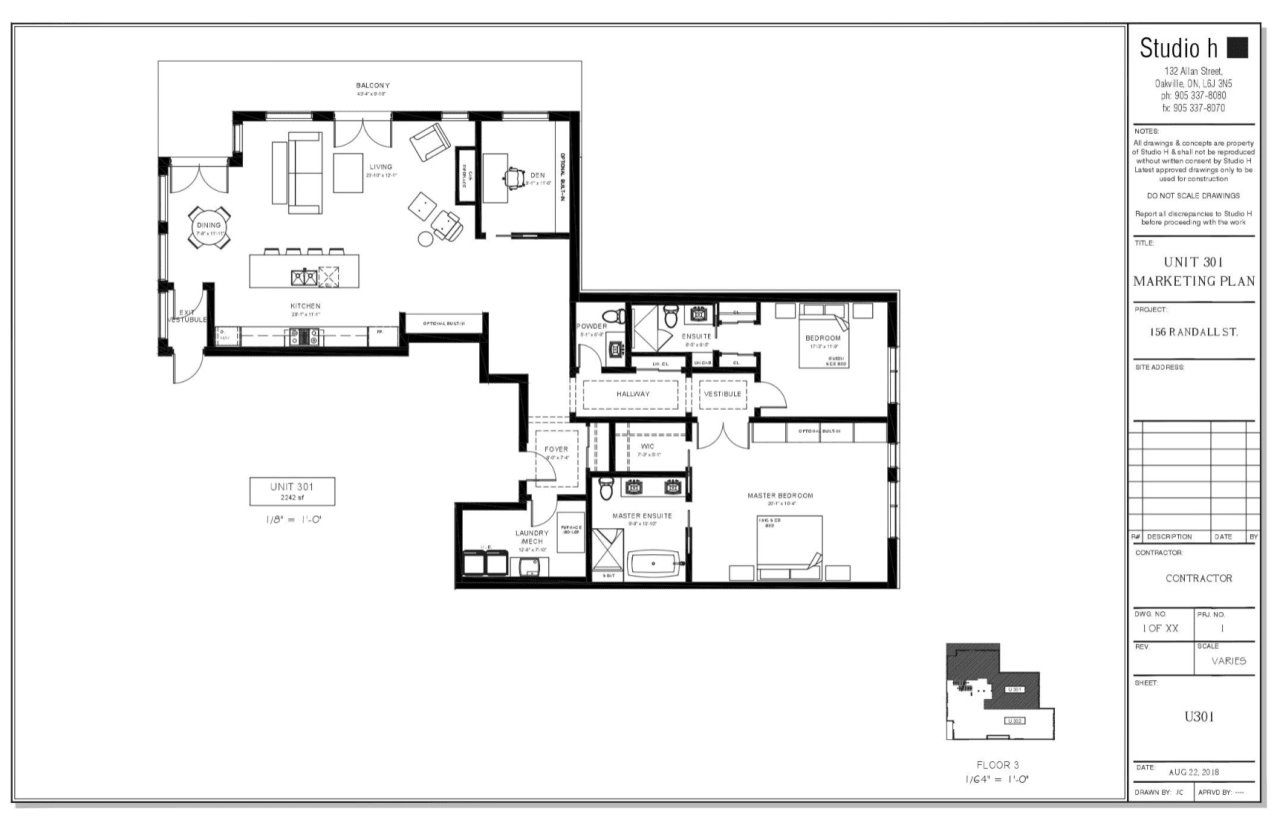 PLANS | UNIT 301 | 2,242 sq. ft. | CONDO BUILDING 3rd FLOOR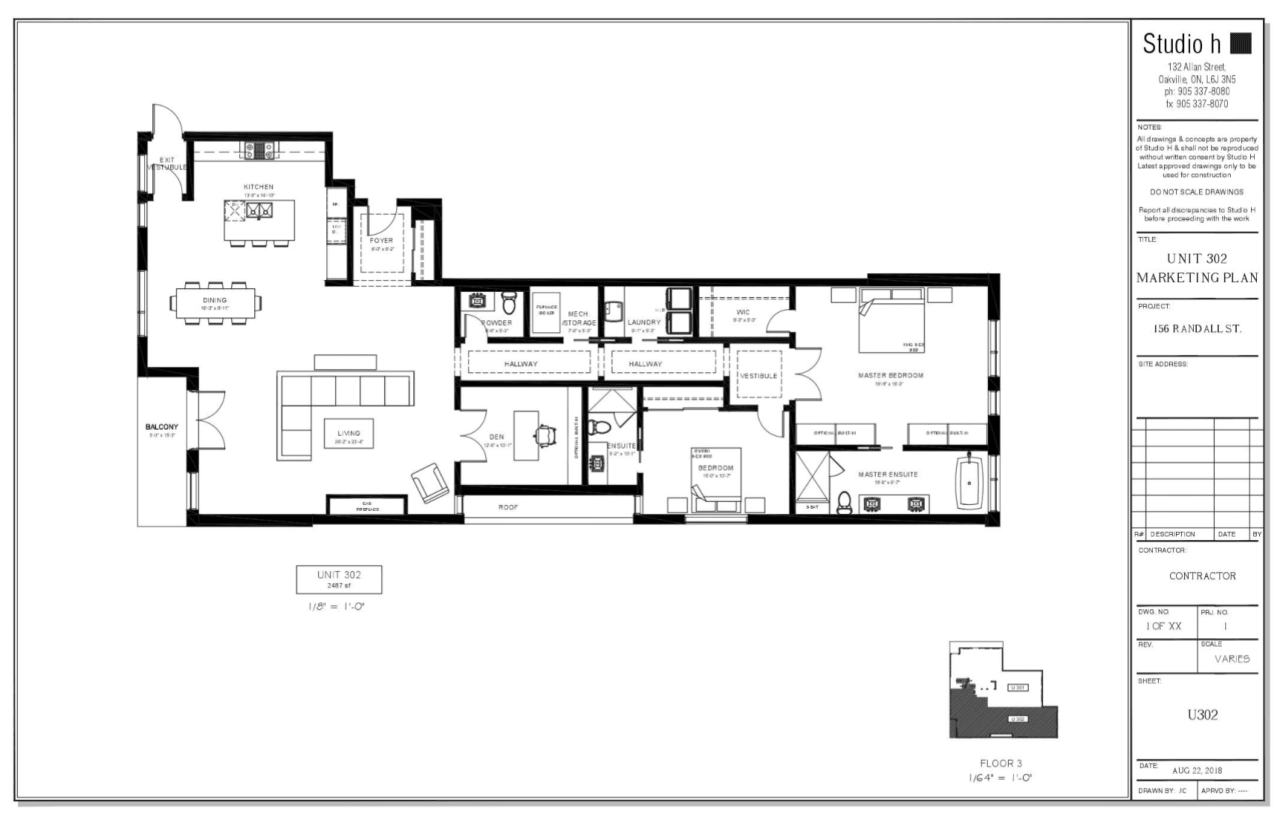 FLOOR PLANS | UNIT 302 | 2,487 sq. ft. | CONDO BUILDING 3rd FLOOR FLOOR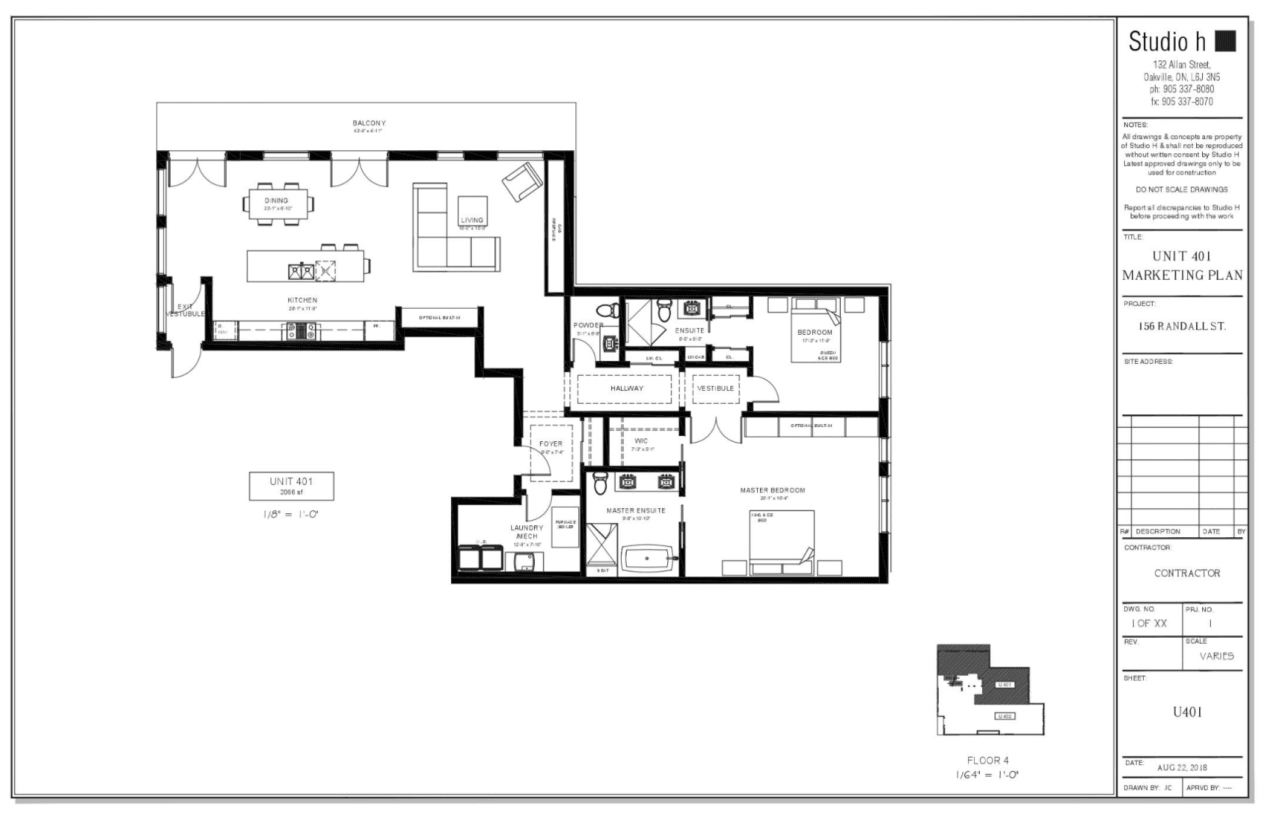 PLANS | UNIT 401 | 2,066sq. ft. | CONDO BUILDING 4th FLOOR 9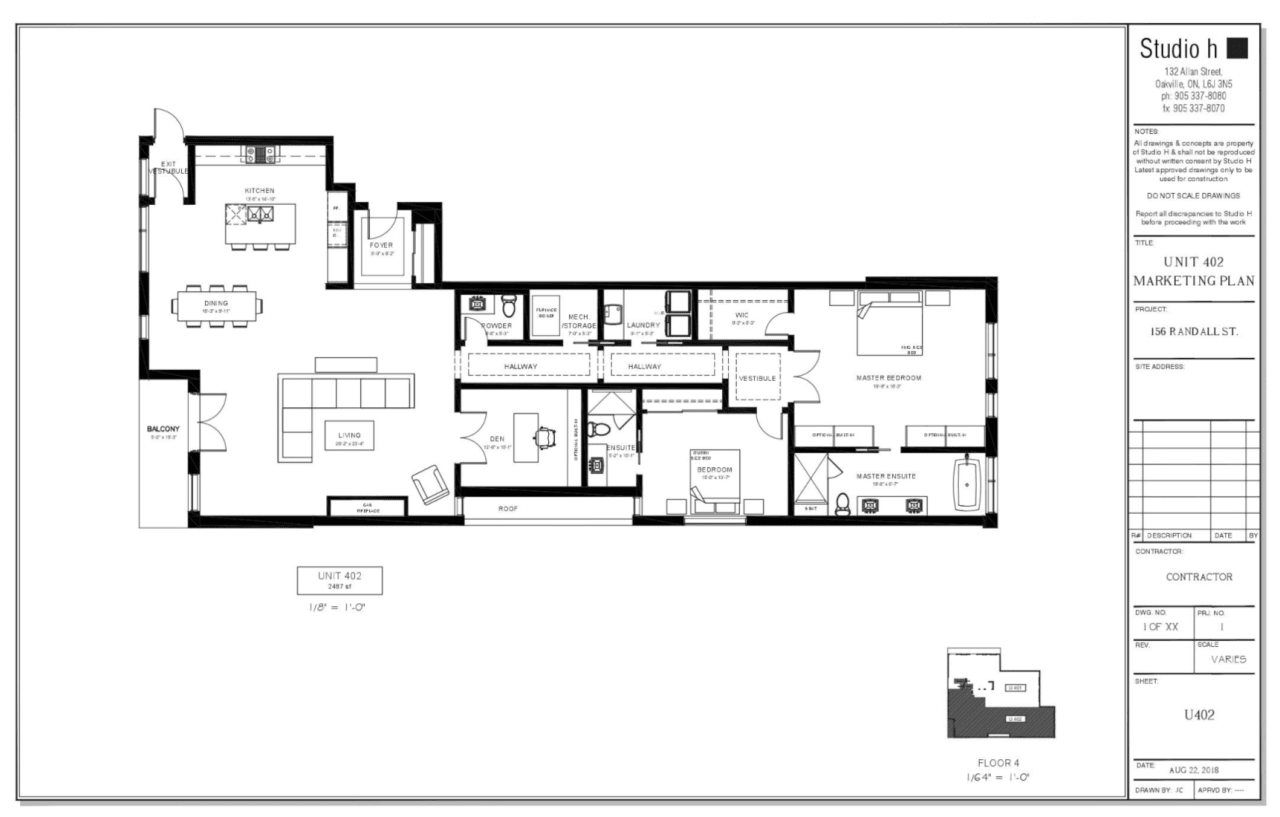 FLOOR PLANS | UNIT 402 | 2,487 sq. ft. | CONDO BUILDING 4th FLOOR
BUILDING FEATURES
Concrete and steel construction
Glass perimeter walls where shown
Low E tinted glass with Argon filled
Brick, metal and cementitous façade
Gracious front entry
Virtual concierge
Parking at grade (stacked parking available)
Glass balcony railings
Oversized balconies where shown
Large suites
All suites come with gas lines for BBQ on balconies
Gymnasium
Private Roof top terraces
SUITE FEATURES
Concrete and steel construction
Glass perimeter walls where shown
Low E tinted glass with Argon filled
Brick, metal and cementitous façade
Gracious front entry
Virtual concierge
Parking at grade (stacked parking available)
Glass balcony railings
Oversized balconies where shown
Large suites
All suites come with gas lines for BBQ on balconies
Gymnasium
Private Roof top terraces
KITCHEN FEATURES
Custom designed European style kitchen cabinets in a selection of door and hardware finishes. Kitchens supplied by Braam Kitchens
Granite and or Quartz countertops
Undermount stainless sink
Single lever deck mounted faucet set
Appliance package includes integrated fridge, dishwasher, microwave convection oven, gas cooktop and built in electric oven
Appliance package from Mielle, Subzero fridge, Wolf cooktop, oven, convection microwave, whirlpool washer, Whirlpool dryer and Sirius exhaust hood
BATHROOMS
Custom designed European style cabinets in a selection of door finishes (see notes)
Rain style shower head where shown
Low flush toilets
Full vanity and mirror
Porcelain wall tiles on all wet walls and surrounds
Quartz countertop with undermount basin
Full sized shower with tiled floor and framed glass enclosure and/ or deep soaker tub
White and chrome bathroom fixtures
Bathroom accessory package including towel bar and toilet paper holder and robe hook
Pressure balanced mixing valve in the shower
Exhaust fan vented to the exterior
All bathrooms with thermostatically controlled heated electric floor
FLOOR FINISHES
Prefinished 7" engineered hardwood flooring through-out from builder samples save and except in bathrooms, laundry and storage areas
Porcelain floor tile in bathrooms, laundry and storage areas from builder samples
SAFETY AND SECURITY
Units come equipped with whole home automation integration system to control alarm, HVAC, home audio, lighting, blind control and sound system.
Electronic communication system located in the secure main entry vestibule. Guests at main entry viewed via camera tied into security system.
Elevator stops at owner suite floor via key card device
Controlled access at all building entry points
Virtual concierge at main door
Smoke, carbon monoxide and heat detectors provided in all suites
Suites are sprinklerd for your protection.
ELECTRICAL FEATURES
Individual electrical panel with circuit breakers.
Individual suite metering .
White decora style receptacles and switches throughout.
Capped ceiling lights at fixture outlets where applicable.
A 40 pot light allowance per suite.
Undermount lighting in kitchen .
MULTI- MEDIA TECHNOLOGY
Structured high speed wiring infrastructure to support central network system the latest entertainment and high speed communication services.
Suites come prewired for Cat 5e and coaxial cable.
Each unit to come with Control 4 or equivalent home automation integration system that allows for home security, HVAC control, home audio control, lighting control, blind control in a one touch control panel.
A six speaker allowance which will be tied into the Control 4 unit and also tied into the buyer supplied amplifier and or home theatre system.
Blinds are supplied for each unit from builder samples.
OTHER
Natural products (i.e. granite, wood and marble) are references to model types or model numbers refer to current manufacturers models. If these types or models change, the Vendor shall provide an equivalent model.
All dimensions, if any, are approximate. Actual useable floor space may vary from the stated floor area, if so stated;
All specifications and materials are subject to change without notice E. & O.E.
Pursuant to this Agreement or this Schedule or pursuant to a supplementary agreement or pur- chaser order, the Purchaser may have requested the Vendor to construct an additional feature with- in the unit which is in the nature of an optional extra. If, as a result of building, construction or site conditions within the Unit or Building, the Vendor is not able to construct such extra, then the Vendor may, by written notice to the Purchaser, terminate the Vendor's obligation to construct the extra. In such event, the Vendor shall refund to the Purchaser the monies, if any, paid by the Purchaser to the vendor in respect of such extra, without interest and in all other respects this agreement shall continue in full force and effect.
The Vendor shall have the right to substitute other products and materials for those listed in this Schedule, represented to the Purchaser or pro- vided for in the plans and specifications provided that the substituted products and materials are of a quality equal to or better than the products and materials so listed or so provided. The deter- mination of whether or not substituted materials and products are of equal or better quality shall be made by the Vendor's architect.
Subject to natural variations in colour and grain. tile is subject to pattern, shade and colour variations.
If the unit is at a stage of construction which will enable the Vendor to permit the Purchaser to make colour and material choices from the
Vendor's standard selections, then the Purchaser shall have until the Vendor's date designated by the Vendor (of which the Purchaser shall be given seven (7) days prior notice) to properly complete the Vendor's colour and material selection form. If the Purchaser fails to do so within such time period, the Vendor may irrevocably exercise the Purchaser's rights to colour and material selections hereunder and such selections shall be binding upon the Purchaser. No changes whatsoever shall be permitted in colours or materials so selected by the Vendor, except that the Vendor shall have the right to substitute other materials and items for those provided in this Schedule provided that such materials and items are of quality to or better than the materials and items setout herein.
The Purchaser acknowledges that there shall be no reduction in the price or credit for any standard feature listed herein which is omitted at the Pur- chaser' request.